BENEFITS OF IMPLANT DENTISTRY
Dental Implants is an increasingly popular choice for our Houston dental patients because of the many benefits they offer. Here are some of them:
Successful – The overall success rate for dental implants is around 95% with decades of clinical research. Dental implants are often the best treatment option for replacing missing teeth and one of the most successful dental procedures.
Durable and natural – Because the implant is anchored in the bone, dental implants are strong, durable and natural in appearance. Our dental implant in Houston office offers the same biting force as a natural tooth. Smile, speak and eat with confidence all the time.
Long-lasting – Unlike dentures and bridges that may require replacement, dental implants can last a life time.
Easily maintained – Dental implants are easily maintained and can be brushed and flossed like natural teeth. Anchored dentures or bridges are easily removed and replaced after cleaning. Dental implants also do not get cavities like your natural teeth.
YES! Enjoy the foods you love – Because dental implants are firmly secured in your bone, they allow you to eat nearly anything you enjoy. With an upper denture, you often lose some of the flavor and enjoyment of food due to having the roof of your mouth covered. Dental implants can not only increase your ability to chew by firmly anchoring the denture, in most cases it totally eliminates the need to cover the roof of your mouth. This allows you to fully taste and enjoy the foods you love and have your denture feel more like your natural teeth.
Saves healthy teeth – Healthy adjacent teeth aren't harmed or affected since dental implants don't rely on neighboring teeth for support. A dental implant can replace a single tooth without needing the support of the teeth on either side of the missing space. By not preparing the adjacent teeth for crowns this increases the life span of those teeth and reduces the risk of root canals and other stress-related problems.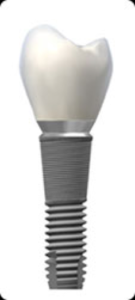 Support for a denture – A dental implant can provide support for a denture, making it more comfortable and secure. If you currently have a denture, adding dental implants can increase your ability to chew by 2-3 times and give you the confidence of your natural teeth again. They can also support a dental bridge and eliminate the need for a removable partial denture.
HOW DENTAL IMPLANTS WORK
The simplest analogy I can use to explain how dental implants work is to relate them to how teeth work. A tooth is held in the bone like a fence post in the ground. The part of the tooth you see is really only about 1/3 of its total length. The rest is the root portion that is below the gums.

This root portion is the part that provides the strength and support for chewing and stability. The longer the root and the more bone surrounding the root, the stronger the tooth.

A dental implant is really a substitute for the root potion of the tooth. A replica of the size and shape of your original root is selected by Dr. Roman based on many factors. The dental pieces are precisely manufactured out of the highly biocompatible and extremely durable titanium metal. The dental implants are carefully secured into place and allowed to integrate or connect to the bone. Once the connection is solid, which usually only takes about 12 weeks, a replacement tooth can be attached and made to perfectly replicate your missing natural tooth.

The mini implants and some types of regular sized dental implants can be almost immediately loaded with a tooth, but with most implant dentistry it is generally best to wait the short period of time to be assured a solid connection.

SUCCESS WITH IMPLANT DENTISTRY

Dental implants are among the most successful dental procedures performed.

While there is no guarantee that a dental implant procedure will be successful, recent studies have shown the success rates to be near 95%. Dental implants have been used for decades and when properly placed and cared for (brushing flossing, regular dental exams) they can last a lifetime.

To learn more about how dental implants can improve your smile and your self-confidence, call our implant dentistry office in Pearland Texas today or fill out the simple form on this page and we will contact you if you are in the area in the area.

Tags: